In the fall of 2010 my wife Diane was diagnosed with breast cancer. It's not an understatement to say that our lives changed dramatically that day. What followed from that shocking diagnosis was over two years of surgery and recuperation with countless visits to doctors and plastic surgeons. Looking back I realize how privileged we were to be helped by an amazing team of doctors, technicians and nurses. We will forever be in their debt.
While Diane was recuperating I happened to take a silly photo of our dog Luna on a morning walk. I convinced Luna to stand on a chair and when I showed the photo to Diane it seemed to boost her spirit. That was all the incentive I needed: I promised to take more photos and I started a blog so that Diane to look see them whenever she needed a giggle. Thankfully we live in a part of town (Yay #EastVan!) where people leave a LOT of chairs in the alleys and since 2012 I've been able to photograph Luna on over 150 chairs, sofas, stools, ottomans and benches and post them on her Tumblr blog!
Diane has fully recovered now (2 years clean!) and three years ago she founded Team Pink Lemonade to raise money for cancer research. She is a proud event ambassador for WORKOUT TO CONQUER CANCER, benefiting BC Cancer Foundation, and her team has raised over $13,000 in the last three years!
Luna has been busy too! In 2014 word about our little secret blog got out. #LunaOnChairs was recognized by Vancouver is Awesome as possibly "the best new blog in Vancouver" and Luna also made their list of "25 of the cutest dogs in Vancouver". (Luna even started an Instagram page.)
On my last birthday my friends surprised me with the best gift ever, my own #LunaOnChairs shirt. This simple gift reminded me of the importance of laughter in the recovery process and it was a logical step to want to share the shirts with friends and involve Luna in our fundraising efforts. Now, thanks to MAKE Vancouver, one of Vancouver's coolest stores, you can help find a cure for cancer AND have a #LunaOnChairs shirt too! MAKE is generously donating a limited edition "Luna On Chairs" t-shirt to anyone who donates $50 or more to Team Pink Lemonade between March 1 – 31, 2015.
Once you've made your donation confirm your size and colour choice with me via email (rmpacey@shaw.ca). Women can choose pink or black and men's shirts come in gray or black. (One shirt per donation.)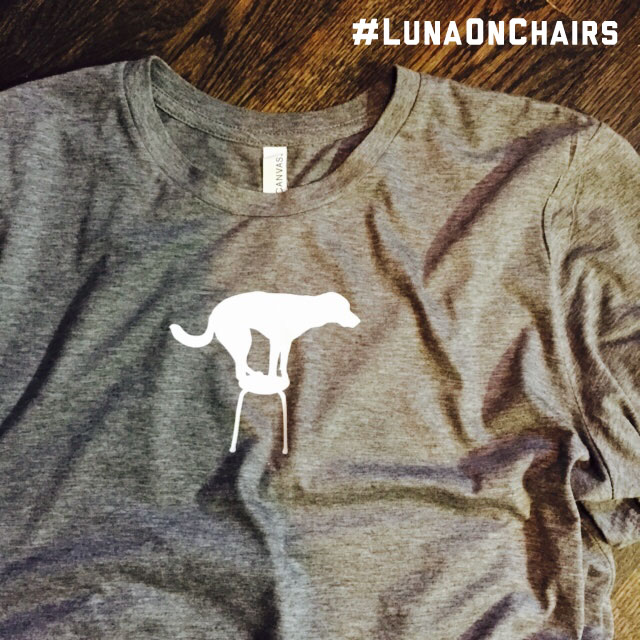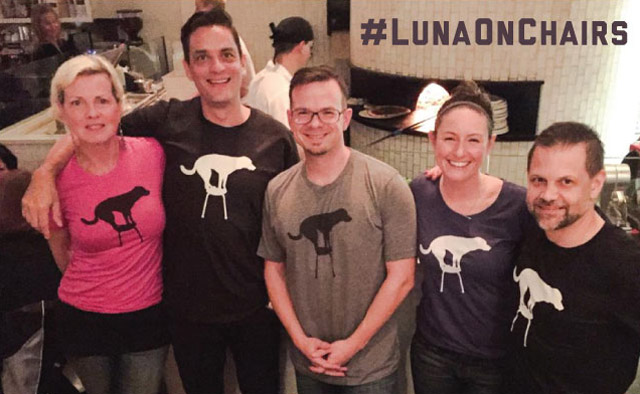 (Diane and Robert want to thank Chad Forbes, Lauren Price and Jeff Ward, who did the original artwork, for their friendship and for choosing the perfect pose for the #LunaOnChairs shirt.)